About Jam Man Entertainment
Find out more about our setup and philosophy here
---
A little about our DJs and the Jam Man philosophy
We understand that our clients are trusting in us to provide an evening of great entertainment to their audience. You may rest assured that we will be the least of your worries as you plan your event. We will:
Send you a contract beforehand so that you know that we will be there as promised.
Pre arrange as many special songs as possible that you would like to have played.
Work with you on any special requirements or stipulations for your event.
We arrive professionally attired and will make a minimal amount of interference as we set up. In addition, we strive to work as closely as possible with your venue of choice to provide you with the optimal placement of our system.
Once your event is underway, we employ our DJ skills to provide your audience with the most crowd-pleasing music and interaction throughout the evening. Typically, events start on the lighter side and work their way towards a more intense dance floor driven conclusion. But it's always your call. If you want a specific genre to be focused on or avoided, we will accomodate your request.
Quality source files make a big difference
While our music library spans many genres and is easily searchable, we believe it is equally important that the music that you carry is as clear as possible.
A vast part of our library originates from CD format.
All files are encoded with fraunhofer technology.
Pre-encoded source files are reviewed for clarity.
A little history... For two decades, we hauled around CDs to all of our gigs. As the years went by, we were literally contracting a carpenter to build bigger and better hauling cases, as we were unable to find a pre-made solution to haul our ever-growing collection. By the mid 90s we were hauling in excess of 2000 CDs to every gig. We were initially reluctant to move over to mp3s, as we felt that they sounded much harsher than CDs-- much as early CDs sounded tinny compared to vinyl. We finally made the jump over to mp3s when we became confident that the mp3 format had matured to a point that a reasonable ear couldn't discern the difference. We encoded our entire collection at 320kbps and stuck our CDs in file cabinets. In order to assure the same level of service quality we also invested in hardware based song controllers. This allows us to instantly access and play any of our tens of thousands of songs without the worry of an operating system crash (yes that's one of our file cabinets in the picture).
Speakers that sound crystal clear anywhere in the room
In 2006, Mackie (Loud Inc.) teamed up with EAW to design a line of "tour grade" speaker cabinets that could fit into smaller venues without sacrificing any quality of sound. Not only did they achieve this goal, they were able to create a cabinet with a superior dispersion pattern and a larger driver surface area than standard 15" driver speaker cabinets. In addition, by utilizing 8" EAW drivers, they opened up the middle of the cabinet for a larger horn which allows for a seamless crossover to the low frequency drivers and provide perfect vertical and horizontal symmetry for consistent sound throughout the venue.
We utilize these cabinets along with their complimenting Mackie subwoofer cabinets, and power them with Mackie amplifiers specifically designed for this system. Add it all up and you may rest assured that when Jam Man Entertainment arrives, your event will be powered by a professional grade, crystal clear PA.
You want to dance? Then you're going to need some lights!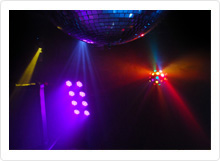 Our lighting rig features a full array of club style lighting that will make you and your guests feel like you've been transported straight into a dance club-- or a saloon, if that's your taste.
We are able to accomplish this by using LED lighting alternatives for our main color washes and many of our effects fixtures. While LED fixtures are substantially more expensive than their incandescent counterparts, utilizing this technology allows us to provide much brighter and color rich light show on standard 110v lines.
We are always tweaking and making improvements to our light show. Currently, we are featuring DMX-controlled LED color washes, DMX-controlled scanners, DMX-controlled green and red lasers, high intensity strobes, a large mirror ball, and various ladder truss-mounted effects lights.